4201 Spring Valley Road, Suite 1100
Dallas, Texas 75244-3665
call 972-695-9740
email dr.moates@amandamoatesphd.com
Driving Directions:
My office is located at 4201 Spring Valley Road, on the northeast corner of Spring Valley and Midway Road in North Dallas. From I-635, exit Midway Road and go north. From the Dallas North Tollway, exit Spring Valley Road and go west. The building is a 14-story building with a large, open parking lot in front. There are several rows of parking designated just for visitors. Suite 1100 is on the 11th floor. Please have a seat in the waiting room and I will come out and meet you at your appointment time.
Arriving late/contacting me:
If you arrive late to your appointment, you can call or send a text message to 972-695-9740 to let me know you've arrived. I do not double book and reserve your appointment time just for you, and will not give away your time even if you are late, but it does help me to know if you're on the way.
Cancellation Policy:
Because I reserve the therapy appointment time just for you (no double-booking), my cancellation policy is 2 full business days (48 hours) notice for 1 hour appointments, and 3 full business days (72 hours) notice for extended couples sessions of 1.5 – 3.0 hours in length. If you cancel later than this, the full amount of the session is charged, unless there is an acute emergency. Hazardous weather conditions or emergency illness requiring doctor or hospital visits would be clear exceptions. Transportation glitches, oversleeping, and emergency work meetings are less clear and I ask for compensation  of my time in those instances. Please speak with me about any questions or concerns you have regarding my cancellation policy before we meet. It is in place to protect your therapy and to respect and protect both your time and mine. As such, I will also abide by the terms of the policy and will not cancel or reschedule your therapy unless it is an absolute emergency as defined above.

COVID-19 Policies:
At this time, I am still offering in-person sessions so long as you have not traveled within the past 14 days and are completely symptom free and healthy. In addition, I ask that you  notify me if you have attended any gatherings outside your immediate family in the past 10 days, or participated in activities defined by the CDC as high risk, such as attending an in-person sporting event, concert, or church services. In such cases I respectfully request that you switch to teletherapy until a 14 day period has passed since your increased exposure.
Of course, if you are experiencing ANY physical symptoms, even if you believe them to only be a common cold or allergies, you must stay home.  Please either request a teletherapy appointment with me or reschedule. Due to the abundance of caution we must take with in-person meetings, you will not be charged for late cancellations related to the acute onset of physical symptoms. Once again, PLEASE do not arrive to any in-person appointments with any symptoms of illness whatsoever.
Entrance to Suite 1100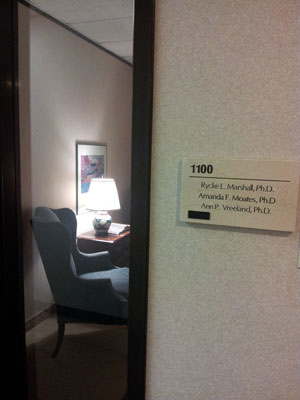 Waiting Room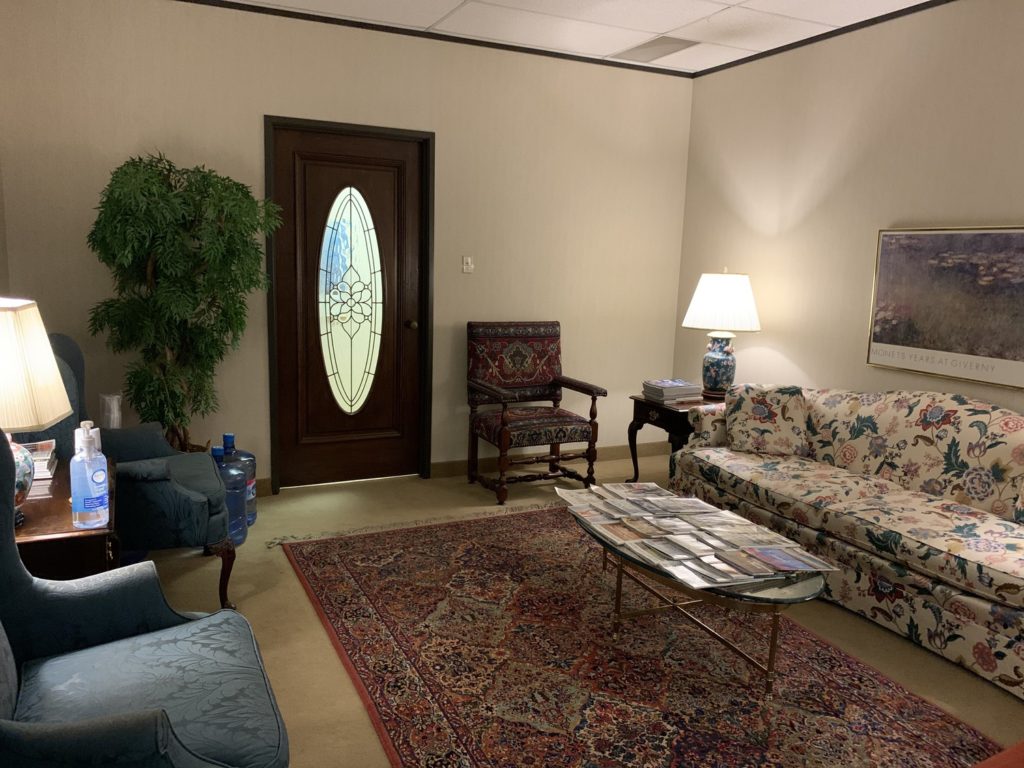 Please use hand sanitizer and have a seat. There is no receptionist and no switch to flip to notify me of your arrival. Because of how in-person appointments are scheduled and spaced, no other patients will be in the waiting room with you.
Therapy Office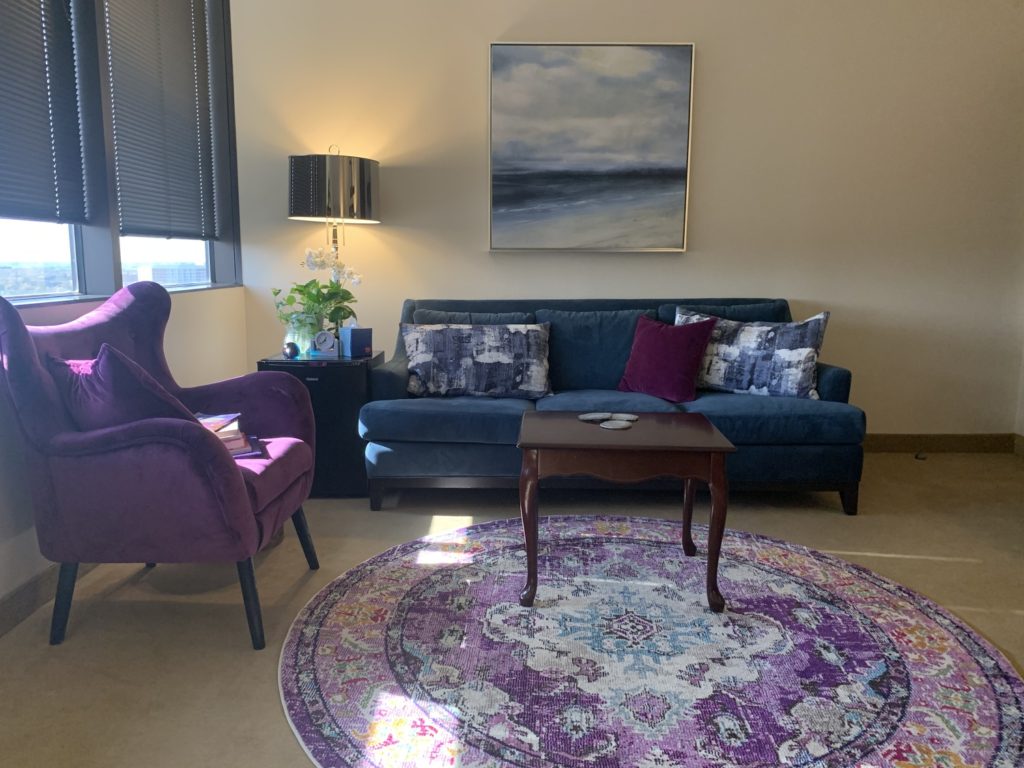 I am very fortunate to have a spacious office that allows for generous social distancing during in-person therapy appointments.
Main Lobby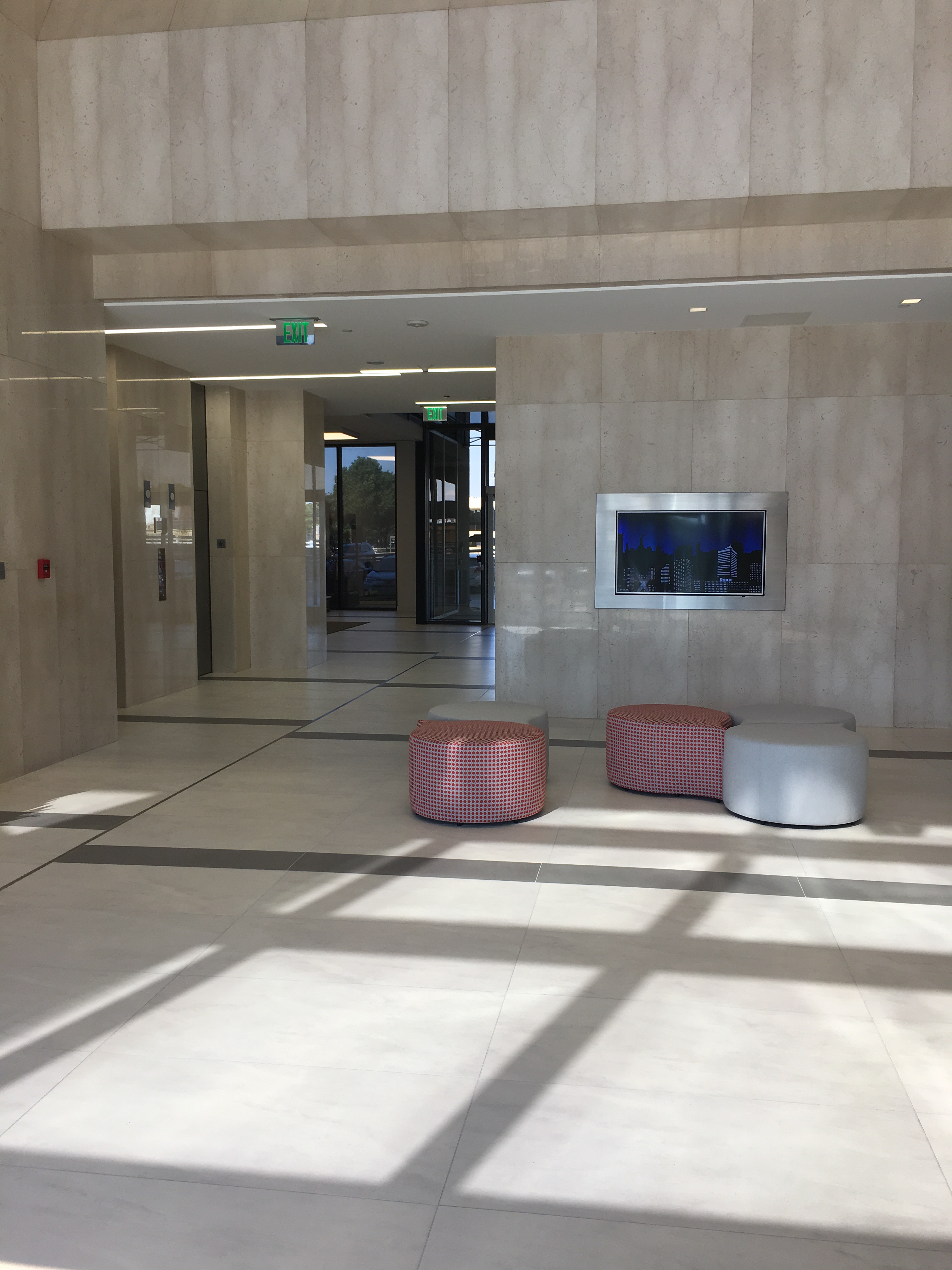 4201 Spring Valley Road

Map